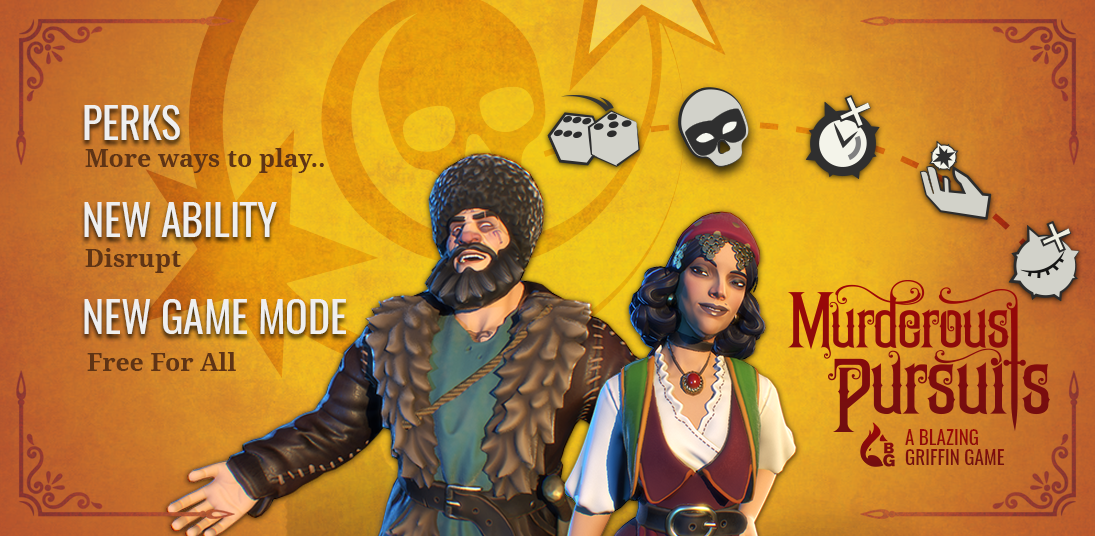 Major Update for Murderous Pursuits has landed!
Murderous Pursuits drops a mammoth monthly update.  With an all new "Free For All" game mode, a new map, a new perk system, new skins and more– this update is jam packed with murderous goodies.
We are continuing to review feedback from the game's growing community on Discord and Steam and have also included improvements and bug fixes in the update.
'Free for All' Game Mode
For the blood thirsty murderers who want to kill anyone that gets in their way, it is a total Free For All! Every player can hunt and kill every other player in this mode – but avoid killing innocent passengers (aka NPCs) and exposing yourself. Anyone is a target, but you're now everyone's quarry.
New Map: Chrono Capacitor Station
Named after the apparatus used to charge up the Britannic's time jumps, this new map provides a steampunk backdrop for your murderous assignations! Raised and narrow platforms allow players to identify their quarries at a distance and stealthily track them.
New Perk System
This all-new system gives players the tools to tweak their playstyle, or experiment with a different one. Choose one of five new perks:
Chameleon Perk – Respawn as a random character when you are killed
Gambler Perk – Respawn with a random set of fully-charged abilities when you are killed
Resourceful Perk – Ability cooldowns are reduced
Scavenger Perk – Always spawn with a high-rated weapon
Incognito Perk – Exposure raises slower
New Character Skins
Soothsayer Doxy: She's steeped in the ancient traditions of the fortune-teller. The Soothsayer can be seen around London selling the fore-paws of unlucky white rabbits but is much happier moving through the fields and countryside of Victorian England, accurately predicting the shorter and less prosperous fortunes of any who cross her path.
Moujik Brute: He hails from the Vorkuta river in the far north of Russia. Whether herding goats or trapping wolves, he is used to holding the power of life and death in his calloused hands.
Additional Improvements
Target Lock: Want to become a pro at following your Quarry at distance or picking them off in a crowd? Now you can Target Lock and avoid those embarrassing lapses in accuracy.
New Disrupt Ability: Temporarily scramble the HUD of players around you, preventing them from tracking others.
Upgraded Disguise Ability: Not only can you use this ability to disguise yourself as another player, it now also conceals your Hunter indicator from your Quarry!
Unlock abilities and perks as you level up! XP and achievements are now earn-able in not only quickplay but private games too.
Keep up to date with Murderous Pursuits by signing up for our monthly newsletter, The Xpress Chronicles here
The next Murderous Pursuits update will be available at the end of July with more new content and features.