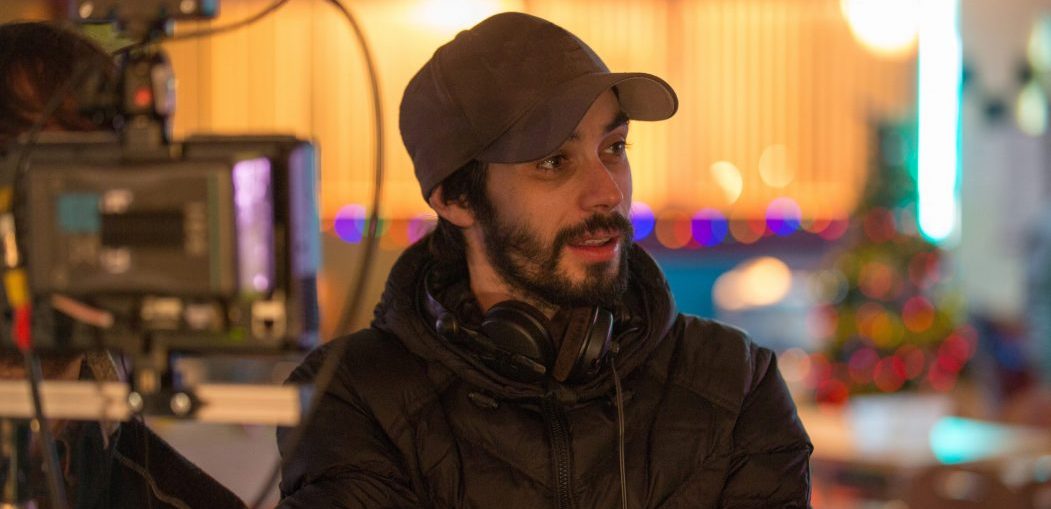 I Got to Make a Zombie Movie
by John McPhail
"Mate, I'll never get to do a zombie movie. The market is way too over-saturated!"
That's what I said to my best pal, Tyler Collins, in 2014. In only a few short days I will be introducing a zombie musical I got to make with my best friends at the Edinburgh International film festival for its UK premier.
I first pitched for "Anna and the Apocalypse" on the 25th of August 2015. It was a Tuesday. I remember it so vividly because I'd never wanted anything more in my life. I'd read the script and fallen in love with the characters, the heart, the story and the gore. It was everything I loved in a script.
I eventually got the job on 14th of April 2016. I'd never been so excited and terrified about a project before. It was everything I'd want in a zombie musical – but I'd been making romantic comedies, what did I know about shooting horror, or action sequences? Musicals were things I'd been dragged to kicking and screaming, unless it was "South Park Bigger Longer and Uncut".
BUT… I love horror. I grew up watching John Carpenter, Sam Rami, Peter Jackson and Wes Craven movies, and I was probably the only person in my school who could tell you who Tom Savini was. At weekends I sat with friends laughing at ridiculous 70's, 80's and 90's horror and action movies with more gore and explosions than story. I have regular debates over why Commando is the best action movie ever made. I know my horror and I know my action.
And I'm not totally uncultured. I'd seen musicals and enjoyed them… some of them. I love the Book of Mormon and Rocky Horror Picture Show. I took great pleasure in telling everyone on the production that we aren't the first zombie musical, waving my blu-ray of Takashi Miike's Happiness of the Katakuris. Basically, I spent a lot of time in prep watching movies and musicals; it's a hard life, I know.
I had some pretty big boots to fill. Ryan McHenry wasn't only the creator, co-writer and director of this project, he was an inspiration, a leader and most importantly a friend. One regret I will always have was never getting to meet Ryan – from the stories I've been told from his friends and family, I know we would have been best pals. I'm not going to lie, it was pretty daunting, but any fears or worries I had went away as quickly as they came because when you go to work with Blazing Griffin it's not like going to work, it's like coming home to a loving and encouraging family. I've never been taken in by a group like that before. I was their director, their captain, and they believed in me.
Prep never felt like work, it was just fun. One half of my composing team, Tommy Reilly, would walk about all day saying, "I can't believe we're making a movie. This is our job! How is this our job?" We were all working really hard, and there was pressure, but we were making a zombie musical set at Christmas – if you're not happy every day going in to prep that then you're a soulless person. Roddy Hart and Tommy Reilly were a dream to work with. They just knocked out tune after tune; we talked all the time about each song and what it would mean, the tone of the scene, what we wanted to get across. We never wanted to break into song just because, "Oh we haven't had a song in 15 minutes", it had to mean something. Throughout prep we worked away happily… and we laughed. We laughed a lot.
I knew casting was key to this film and getting the right balance was vital.  We all wanted actors who could sing because audiences aren't stupid and it would jar for them, take them out of the film, if the cast didn't have the musical chops. We found pretty much all of them early doors in the summer of 2016. The magnificent and so, so, so talented Ella Hunt as Anna; the loveliest, kindest boy you'll ever meet, Ben Wiggins, bossing it playing douchebag Nick; my wise-cracking, utterly infectious choreographer, Sarah Swire, as Steph; the smiliest boy with the most charming nature, Christopher Leveaux, as Chris; and the light of our cast, the girl with more pizzaz than you can shake a stick at, Marli Siu as Lisa. The only character we struggled to find was our leading man, John. Producer Nicholas Crum, casting director Caroline Stewart and I searched high and low and it took us until late November to find him – my boy, my John, Malcolm Cumming. And he was worth the wait.
To say I love this cast is an understatement. I've never loved a bunch of actors more. They could do no wrong in my eyes because they gave me everything. Every day they'd come in and boss it. I could rely on them for anything. I knew when the chips were down and we had our backs against the wall they'd never let me down, and they never did – they delivered time and time again. My leading lady is a dream, she's everything I could have and always wanted in my Anna. Ella was my rock on this film and I can't thank her enough for standing shoulder-to-shoulder with me, having my back and believing in my vision. She made my life so easy on some of the hardest days.
The shoot was a blast. My DOP, Sara Deane, went to town with colour all over my designer Ryan Clachrie's beautiful sets. Fiona Morrison's costume department worked tirelessly to make sure I had the funniest, brightest Christmas costumes. My fight director and long-time friend, EmmaClaire Brightlyn, herded zombies. My wonderful make-up team, headed by the queen of zombies Maxine Dallas, were always covered in blood and I used to get so excited when one of the assistants, Raymond, would come to set with the blood pump – that would be a good day. Standing coolly in the corner were wee John Hutton's sparks, who years previously I used to bug to get batteries charged. The camera team were kept in check by Johnny Kerr throwing out banter and ripping into the sound team headed up by Cammy Mercer. It was a crew I've looked up to and respected, folk I had worked with before as their junior all now standing by, ready to get stuck in and pull the overtime, for me and my vision. To say I'm a lucky guy is an understatement.
There has been so much to this journey, but the one thing that always sticks out to me is the people I've shared it with. I've met some incredible people on this journey, and made some real friends for life. One person in particular stands out for me, lead producer Naysun Alae-Carew. I always like to be right, but somehow he always is, and I'm fine with it (eventually). We've learned and grown so much together.. This journey wouldn't be possible without him nor would I have wanted to do it to with anyone else.
Like I said at the beginning, I got to make a zombie musical with my best friends.