New players!  Welcome to The Ship!
You've probably read about The Ship or watched one of the many Let's Play videos on YouTube, so it's likely you'll kind of know what the game is all about.
In a nutshell – The Ship is an online multiplayer game
for PC.  You are assigned a target (your quarry) and someone else is hunting you.  You're awarded points (cash) for killing your quarry (with different scores awarded for different weapon types).  The person with the highest score wins the match.
Game Guide
We've written a number of guides to help with the main gameplay concepts – check them out below:
Connecting to a Server
Unfortunately the game's master server is no longer in operation, but there are plenty of player run servers available at any given time.  Please note that each server has its own rule configuration and etiquette.  For example, it's not considered good practice to indiscriminately kill everyone – some servers may auto-ban you for doing this.
To connect to servers via the Steam Client: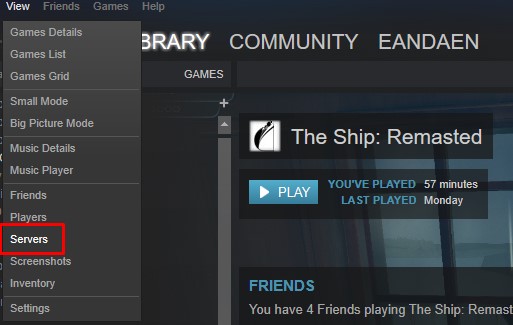 View > Servers
CHANGE FILTERS
Game > The Ship
From here you can join any of the available servers without the need to open the game normally.
You can also connect to specific servers by following our guide here.
Players
The Ship is a 10 year old game, so the number of players online at any one time has diminished somewhat, but there's always someone to play with.  Here are some options for finding people to play with:
The Ship: Remasted
We're currently mid-development for a remake of the game – The Ship: Remasted.  It's due for launch in early 2016 – we'll be posting more information about this shortly.
On behalf of the team here at Blazing Griffin, welcome aboard The Ship!