Yes, you read right!  The Ship: Remasted.  Because we like puns, that's why.  YEAH!
The response from the community has been great and naturally there are loads of questions about the remake of The Ship, so we just wanted to take some time here to explain the scope of the project and answer some of those questions.
Mac / Linux?
The build we will release at launch (early 2016) will be Windows only as we want to get that right first. However, there have been a lot of requests for Mac & Linux versions and we're working on the basis that this will be a priority when the core game phase is completed.
Steam Workshop Integration
We're really excited about the prospect of player-created content for The Ship! This is something else we'd like to do, but won't be able to do for launch.   As we work through this project we will be adding the hooks to possibly enable Workshop integration at a later date, but whether or not we're able to do that will depend on how the game is initially received by players. Several players have already been working on new content for the existing game and there's an ongoing discussion on the Steam Community about modding.  If you're interested in this, drop by the thread and let us know – we'll certainly take it into account.
New Content & Features
There are no plans to add new content or features right now.  The challenge of remaking an existing game is to ensure we recapture the essence of the predecessor – throwing new things into the mix can complicate matters, either by moving the game away from what it once was or by dividing player opinion on the subject. However, that doesn't mean we won't add new things in the future.  The main reason we're doing this is to have the ability to add more to the game at a later date – this is more "phase 2" stuff though and right now we're focusing on "phase 1".
Player Suggestions
There have been loads of suggestions from players so far and we openly welcome more feedback.  Drop by the thread on the Steam Community if you have suggestions for the game.  The dev team reads the thread regularly: http://steamcommunity.com/app/2400/discussions/0/594820656472076822/
While we won't be adding new content or features to the new game, this doesn't mean we're not making improvements.  We'll be posting more details of what's being tweaked as the project progresses, but generally we're looking at things that will be a sensible improvement without changing the game in ways that existing players might not like.
UI Overhaul
One of the areas that will be notably different is the UI.  We won't got into too much detail right now (more to follow later in the year), but our team have been busy.  Our Design team has read through all the reviews for The Ship on Steam (all 3.5k+ of them) and a few ongoing feedback discussion threads and based on this we've reworked the UI into something a bit cleaner and simpler to use.  And pretty, very pretty.
Visual Improvements
Clearly, the one thing we can do with a 10 year old game is improve the visual elements!  And that's exactly what we're doing, with a lot of work being done on the lighting and environmental effects. Have a look at this moodboard our Art team have put together – this one is for the Cyclops.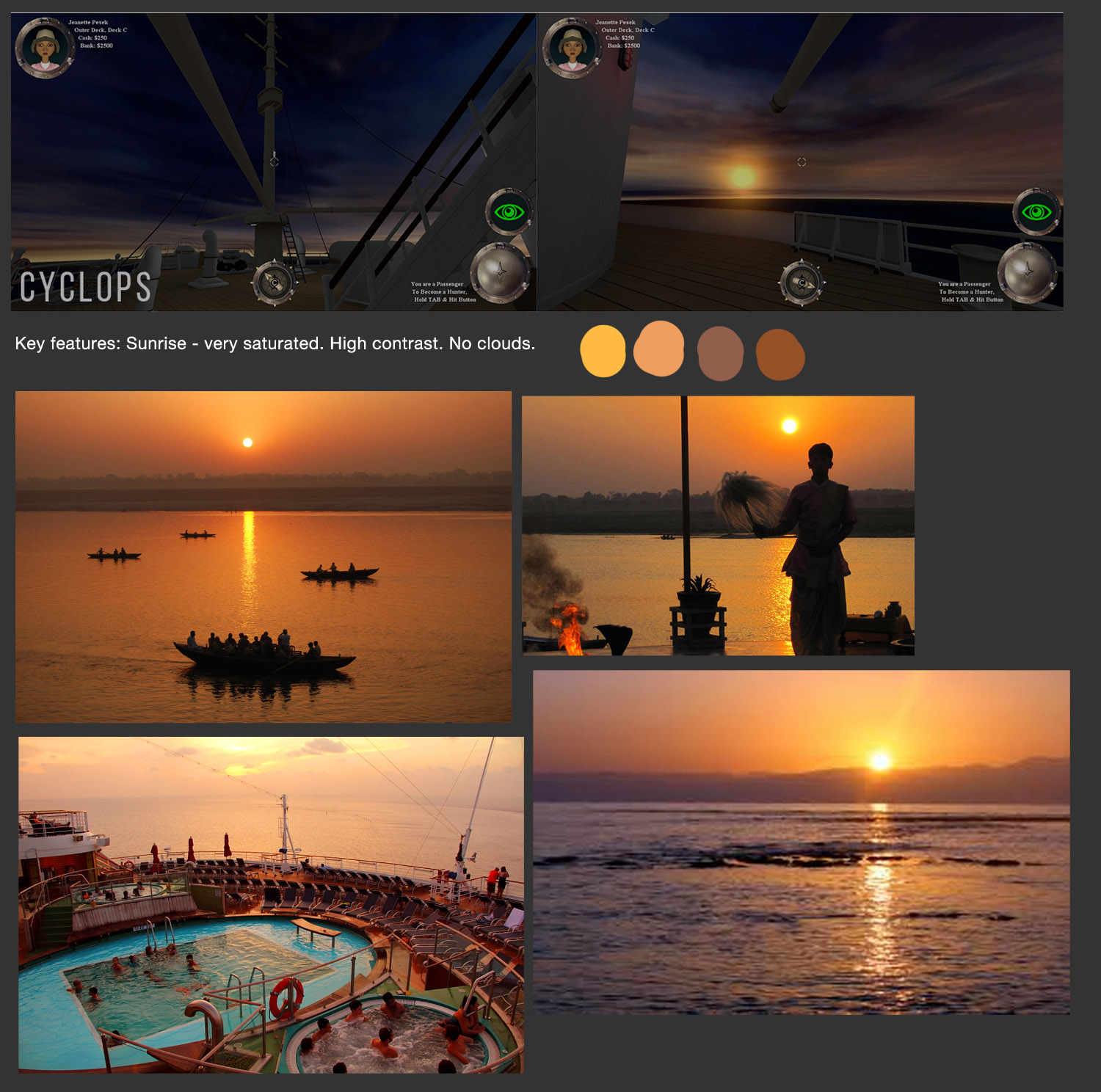 Lead Artist, Paul Scott Canavan said; "For The Ship: Remasted I thought it would be fun to make each level feel as unique as possible. Being able to glance at a screenshot and tell which level it's set on is both visually appealing and great for gameplay and map recall. Because these ships exist in different places around the world the art team have a lot of control over how those locations are portrayed: we can play with time of day, weather and mood to give every level its own identity. To start the process I created moodboards to guide the art team through creating these unique settings. I made a list of each level in the game and considered potential time of day and moods for each one, trying to keep each unique while remaining fairly true to the original design.
With those ideas scribbled down I could then dive into Google to search for appropriate photos. I'm looking for interesting colours and features, things which will act as landmarks in the levels such as the northern lights in Andrea Doria or the storm clouds in Connemara. I also make notes of potential weather VFX which could add to the atmosphere of the level such as rain, snow, mist and fog and how those elements might affect the mood.
Once assembled in Photoshop, these moodboards act as a guide for painting the skyboxes, the colours and placement of lights in the level and the specific look of the VFX which will be added to bring it to life."
The team here at Blazing Griffin greatly appreciate the support and kind words from the existing community and look forward to continuing to work together to revive The Ship.
You can keep up to date with what we're doing via The Ship Facebook page, Twitter account and our monthly newsletter which has details of updates and promotions.
If you haven't yet seen the teaser trailer…why not?  Feast your eyeballs on this: