Great news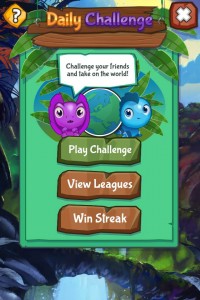 for Dino Tribes fans!  Blazing Griffin are pleased to announce the launch of the Daily Challenge!
Update Notes
Bug Fixes – Fixed an issue with progression on level 6.
Daily Challenge – see who tops the leaderboard each day.
Treasure Trail – move along the treasure trail and get free stuff!
Every day, all players can access the same new map and have one (and only one!) chance to complete it.  You can pit yourselves against others in the Friends, Regional and World leagues, increasing your prizes with each subsequent win!
Have you challenged your friends yet?  Use your skills to help Dino Mike rescue dino babies from the effects of an incoming meteor.  Match through 80 challenging levels, overcoming a variety of obstacles and utilising Dino Tribes' unique sliding movement that has you to move entire rows and columns, creating endless matching opportunities!
[sf_iconbox image="ss-user" character="" color="standard" type="boxed-two" title="Haven't tried Dino Tribes yet?" animation="fade-from-bottom" animation_delay="200″ link="http://www.windowsphone.com/en-gb/store/app/dino-tribes/260963e8-65da-488e-ba1c-31e3e68028fb" target="_self"]
Download from the Windows Phone Store and play today.
[sf_button colour="accent" type="sf-icon-reveal" size="standard" link="http://www.windowsphone.com/en-gb/store/app/dino-tribes/260963e8-65da-488e-ba1c-31e3e68028fb" target="_self" icon="ss-user" dropshadow="no" extraclass=""]Download Now[/sf_button]
[/sf_iconbox]