EDINBURGH, Scotland – 15th February 2017 — Blazing Griffin, a digital entertainment group, today announced that it has appointed industry veteran, Mike Cox, to take charge of the game development arm as Head of Studio. Having recently announced its successful Series 'A' funding round, raising £5 million, Mike joins Blazing Griffin at an unprecedented time of growth for the group.
Mike brings with him over two decades of impressive games industry experience, including tenures at Electronic Arts, Kuju Entertainment Ltd. and most recently as VP Business Development at Simul Software. In his new role, Mike will lead and manage the game development arm of Blazing Griffin, working to expand it from one to three active development teams working across multiple projects.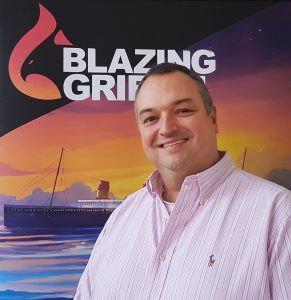 "I've always enjoyed working with Indie Developers" said Cox. "The team at Blazing Griffin are exceptionally talented and the pipeline of games we plan to develop over the next few years will redefine expectation levels and raise the quality bar significantly."
In addition to his work with the management and growth of the game studio, Mike will also use his years of industry leadership to raise awareness of the excellent standard of Games Development in Scotland and the vital contribution that Indie Developers make to the Industry as a whole.
"Mike joining us is one of the first steps in delivering our ambitious plans and I'm obviously very pleased with being able to add his experience and talents to our growing team " said Managing Director, Peter van der Watt.
Blazing Griffin is working on a number of on-going and unannounced game development projects and currently has a sixteen person development team comprising of local and international talent. Following the launch of The Ship: Remasted and coupled with the investment, the games studio plans to build at least two new development teams and is already actively hiring.
Press interested in interviewing Mike Cox may do so during the Game Developers Conference 2017 in San Francisco, California, where Blazing Griffin will be available for meetings at the Scottish Development International stand (2116 South Hall) for the duration of the show. Alternatively, contact Blazing Griffin at press@blazinggriffin.com to arrange an interview.
###
Contact
press@blazinggriffin.com
4 Broughton Market
Edinburgh
Scotland
EH3 6NU
About Blazing Griffin
Blazing Griffin is an independent digital entertainment company based in Scotland. Founded in 2011 as a games development studio, the company has grown from a team of three to a group of companies working across game development, film production and television post-production with 28 staff based in Edinburgh and Glasgow.
If you are interested in joining the team at Blazing Griffin, please send a CV and cover letter to  jobs@blazinggriffin.com. We are not working with recruiters.